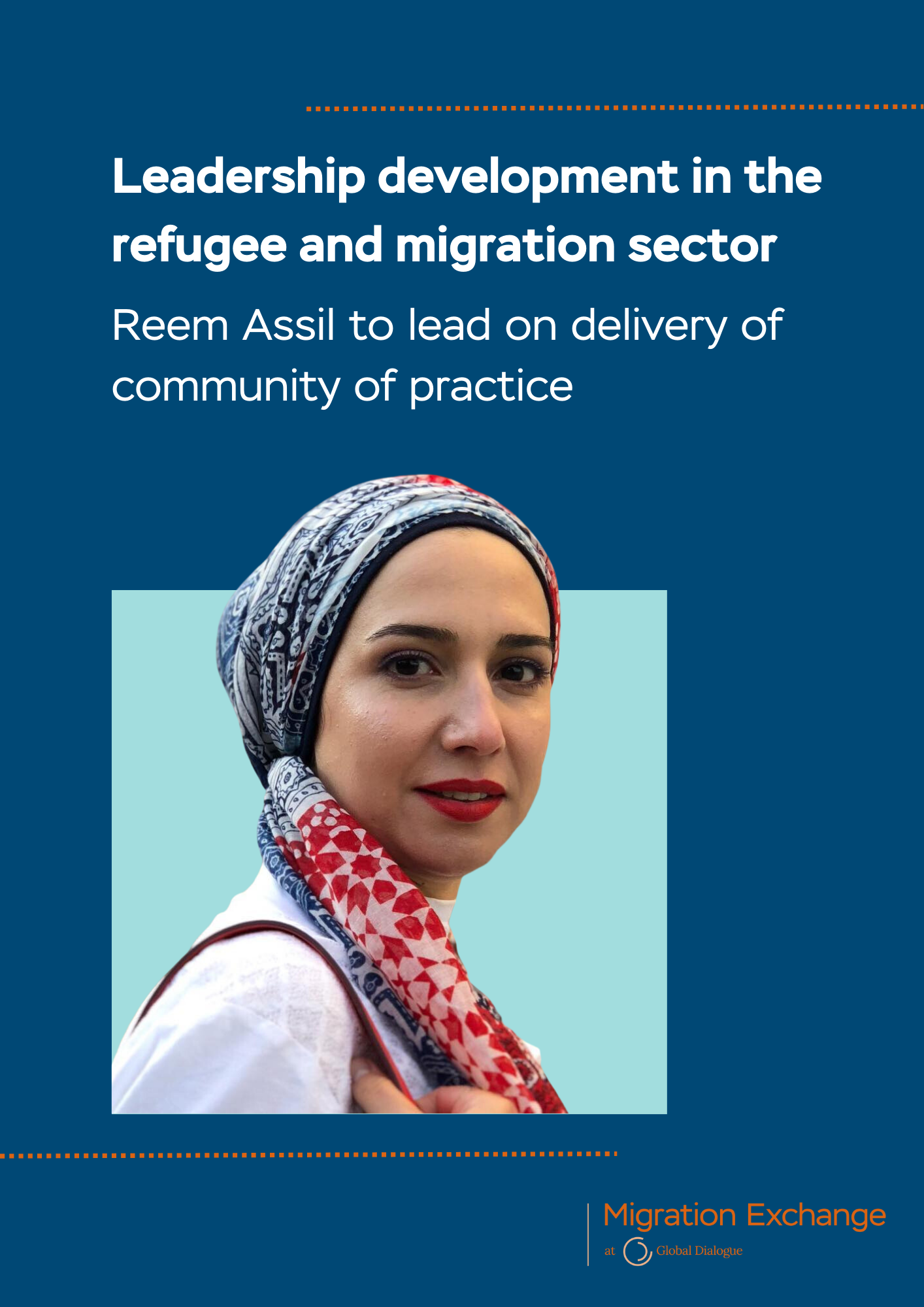 NEWS: Reem Assil selected as delivery partner for MEX community of practice on leadership development
Migration Exchange have selected Reem Assil as our delivery partner for our upcoming community of practice on leadership development.
September 2023
In Autumn 2023, we are setting up a 'community of practice' (CoP) bringing together different stakeholders across the UK who have an interest in leadership for change. This builds on sector feedback via our 2022 report.
The CoP aims to nurture existing connections and generate new ones. It will explore how leadership development opportunities in the refugee and migration sector can be more accessible, equitable and contribute to system change.
The selection panel was impressed by Reem's proposal which demonstrated strong principles of co-design, of respecting the dignity of participants involved, as well as a solid plan for delivering the project within the timeframe and budget. Reem's approach is grounded in strong principles of social and transformational justice and a firm commitment to identifying and tackling power dynamics.
Reem has begun to work on the first stage of the community of practice, and we are looking forward to sharing more information soon – particularly about how you can participate or get involved.
In the meantime, please see below for more information about Reem.
Note on the recruitment process: To select a partner for the delivery of the CoP, we invited applications through an Invitation to tender, and received a number of very strong proposals. We shortlisted eight applicants and held interviews to better understand the approaches being proposed. Through a competitive process our panel, which included a member of the newly formed Migration Exchange Advisory group, selected Reem Assil as the delivery partner for the community of practice.
"I am thrilled to collaborate with MEX in delivering the Community of Practice on leadership development. This partnership holds great importance as it aligns with my belief in the power of collective efforts to reimagine accessible and equitable leadership opportunities within the refugee and migration sector. Upholding the principles of co-design and respecting the dignity of all participants is paramount to me. Through this endeavour, we aim to foster social and transformational justice. I am genuinely excited to contribute to the creation of safe spaces where the community can collaboratively shape the future of leadership in the refugee and migration sector."
About Reem
Reem designs manages, and facilitates leadership programmes in three languages: English, French, and Arabic. She is a Master Facilitator with +500 hours of facilitation globally across different sectors and generations. A mentor with over 15 years experience in mentoring young people and a certified Transformational Coach.
A British Syrian, Reem holds an MSc in Biotechnology. She worked as a University Lecturer in immunology and animal biology at the University of Damascus and the University of Qalamoon in Syria from 2007 to 2010. Reem worked on her PhD degree in Immunology at the Université Montpellier II/France from 2009 to 2012. She worked as a Chief Biomedical Technician in the Cardiovascular Department at the University of Cambridge before embarking on her second PhD in religious studies and peacebuilding exploring the large-group identities of Syrians in exile at the University of Winchester between 2016 and 2019. She worked as a Programmes Director and Development Director at Common Purpose between 2018 and 2023. She holds a certificate in Business and Social Justice from the University of Cambridge/ Institute for Sustainability Leadership (CISL), and a certificate in Embodied Conflict Resolution.
Reem is a member of the Community Scrutiny Panel at Cambridgeshire and Peterborough Police and an invited observer to Cambridge Ethnic Community Forum (CECF) Trustee meetings. She is a founding member of the Syrian Nonviolence Movement; a Syrian NGO supported by Amnesty International where she headed its Media department. She is also a co-founder of the Free Syrian Translators, a media activism group. She chaired the Syrian Platform for Peace-UK in collaboration with International Alert from 2015 to 2019. Reem is a blogger and has written for several media outlets in both Arabic and English. She is a co-author of "The Arab Spring, Five Years On". She is a single mother, a social activist, and a public speaker who can engage, motivate, and empower her audience. She was the top-rated public speaker at Amnesty International Student Conference in 2013.
To continue hearing updates about MEX's leadership development community of practice, join our mailing list.
If you would like to get in touch, please email us at mex@global-dialogue.org.